Product Range
Classic Range // Sliding Door
Introduction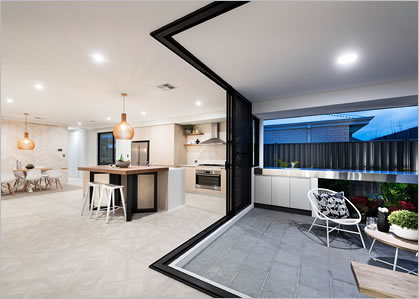 The Carinya Classic Sliding Door is a product in the residential market having evolved out of a system designed for the high rise apartment market.
This commercial background means that besides a modern designer look, the Carinya Classic Sliding Door is packed with a multitude of performance features, many of which are simply not available in competing products:
Rather than unsightly exposed tracks found in most residential doors, Carinya has a complete range of threshold and jamb in-fills as well as end caps to conceal all cavities. This not only provides a superior quality, commercial grade finish but also minimises places for insects, dirt and grit to gather.
An internally concealed weather flap also reduces air and water infiltration and minimises insect intrusion through the drain holes.
All Carinya sliding doors feature a choice of sill configurations catering for every weather performance requirement, including a wheelchair accessible sill.
There is also a range of attractive interlock options to meet a wide variety of wind load requirements up to the most demanding cyclonic conditions.
The entire Carinya Collection has been fully tested to meet or exceed Australian Standards AS2047, AS1170, AS1191 and AS3959.
Hardware
The Carinya Classic Sliding Door has been matched with commercially designed hardware to ensure style and durability.
The Yarra Curve door lock provides functionality and varying finish options for your project. This functional design allows for ease of use and utilises 5 pin cylinder security for peace of mind.
Custom bump stops and end caps have been designed to minimise door slamming, and add to the aesthetic appeal of a professionally finished product, creating a door of unique quality in the residential market.
To maximise the performance of your sliding door we have utilised our proprietary Alspec roller system. It's the same system used throughout our commercial range and is available in two gauges -
Custom: for the majority of loads up to 80kg per panel;
Heavy duty commercial: designed for extra large sashes and major double glazing loads up to 160kg per panel.
Stainless rollers and optional stainless cover track are also available for coastal environments, allowing for enduring performance and durability.
Both roller systems have been designed to interact with the stiles to create a strong and robust panel, minimising movement in joints and opportunities for air infiltration.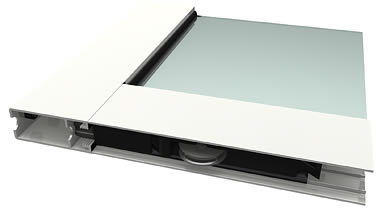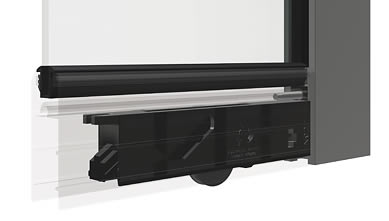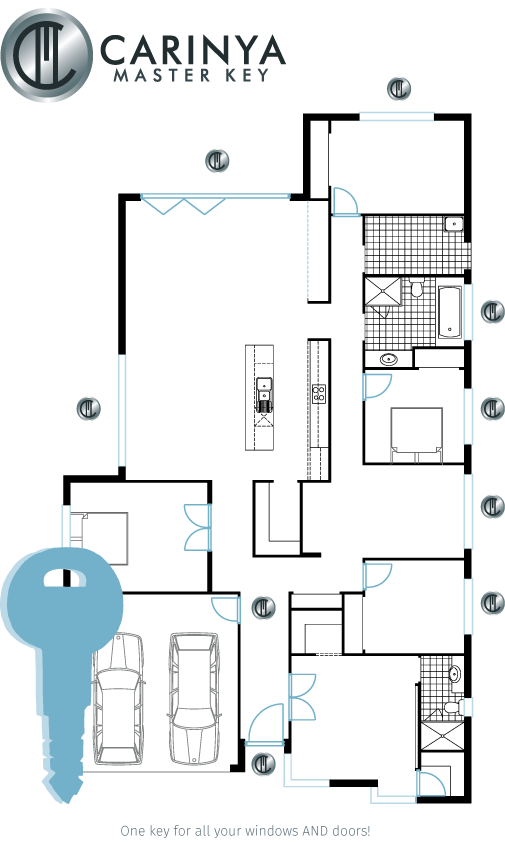 Carinya Master Key
Our Carinya Dealers are pleased to offer a solution for multiple keys for your doors and windows.
It is possible to have 1 key for your front door, french door, bi-fold door, sliding window, awning winder and security screen door. With Carinya's Master Key there's less keys... and less fuss!
Screening
Carinya is created by Alspec - Australia's No.1 aluminium system supplier and we also offer an extensive range of window screening and home improvement products for your home. In addition to standard fibreglass and aluminium insect screening, your Carinya Dealer can also offer the latest technology in high visibility screening using BetterVue® and UltraVue® screening to maximise your view.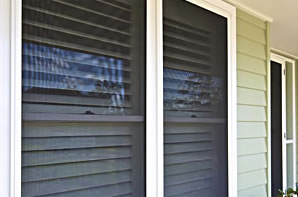 Insect Screening
Carinya products have been designed to accept screening products without the need for unsightly adaptors or added material. Door and window screening provides protection from insects and other unwanted 'guests' to your home, whilst minimising the impact on your view.
View more »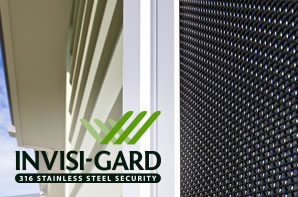 Invisi-Gard Stainless Steel Security Screening
Fixed window security screens are becoming more of a requirement for the conscious home owner and Invisi-Gard is your ideal match for durability, protection and performance.
View more »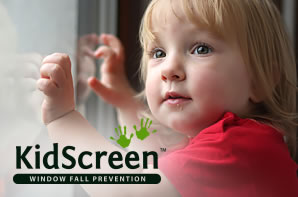 KidScreen Window Fall Prevention
A unique patent design, cost effective barrier solution designed specifically for child protection of openable windows, KidScreen were recently presented with a highly commended Award from the "Australian Windows Association Most Innovative Window Component 2013".
View more »
Specifications
Maximum Sash Height: 2700mm
Maximum Sash Width: 1500mm
Maximum Glass Thickness:10.5mm or 18mm IGU
Maximum Sash Weight: 160kg
Frame width available in 92mm or 150mm
Application
Region D Residential Construction for Cyclonic Compliance – Structural / Water & Impact Rated Glass
Double Glazing without adaptors for a premium option
Cyclonic Compliance – Structural / Water & Impact Rated Glass
Low-Rise Multi-Unit Developments
Options
A range of sill options available for increased structural, water performance and design flexibility.
A range of internal interlocks complete with end caps for varying wind load requirements.
Integral screening options for security or insect protection.
Configurations
Your Carinya Dealer can offer the typical standard configurations below, as well as custom options to suit your requirements.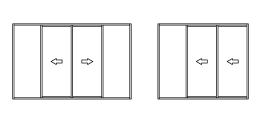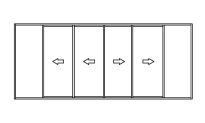 Colour Options
Depending on the look require, you have many colour options for your Carinya Windows and Doors. Your Carinya Dealer can help you through this process of selecting a prefect match to your project.
Carinya Windows and Doors can be finished by one of two options for aluminium:
Powder Coating
A tough and durable option allowing for a wide range of colours.
A choice or world leading suppliers of powder finishes;
Finishing is provided by supplier accredited Alspec branches, as well as selected quality contractors.
Warranties are available. Depending on your finish option, you will receive a warranty ranging from 7 years (film and colour integrity) to 15 years (film and colour integrity).
Anodising
You may prefer a choice of anodizing, an electro-chemical treatment available in standard finishes, natural anodized and non standard, bronze and black.
Colour Visualiser
Unsure which colour or finish to choose for your new Carinya product? Why not use our handy Colour Selector Tool to take the guesswork out of the process. Simply click on any of the colours or finishes you are considering to preview the results.
Colour disclaimer: Actual product colours may vary from colours shown on your monitor. Colours can be verified by ordering a sample from our representative.
Energy Efficiency
Now you can install green, green glass at home - with designer style!
The Carinya Collection of aluminium framed windows and doors has been specifically designed to be environmentally friendly, reflecting Carinya's commercial market heritage, where thermal and acoustic performance are often critical.
Of all building materials including glass, timber and masonry only one material is 100% recyclable - Aluminium.
Windows are vital to the energy efficiency of any home. Research by the Sustainable Windows Alliance of Australia shows the typical Australian home can achieve an increase of 2 to 2.5 stars energy efficiency simply by upgrading the windows.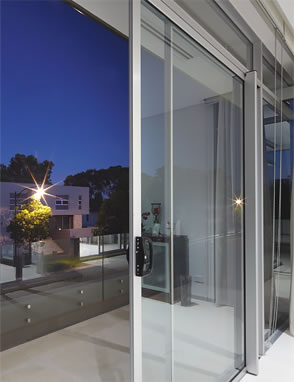 Unlike many aluminium windows, Carinya has been designed for all major forms of eco-friendly glazing options without any alteration to the frame or any unsightly add-ons.
Carinya frames are designed for eco-friendly Low E glass, high thermal and high acoustic performance 10.5mm glazing. To maximise the energy efficiency of your glazing discuss your project with a specialist Carinya Dealer and/or your architect or designer.
Remember the three most important issues for achieving maximum energy efficiency in a home are:
Orientation - always try and have living areas facing north with seasonal shading.
Insulation.
Window quality and performance.
WERS Energy Ratings
The Housing Industry Association of Australia (HIA) strongly suggests you ensure the energy rating on your windows is WERS rated to be confident of its true performance. Carinya gives you that confidence as the entire Carinya Collection has been WERS rated for performance.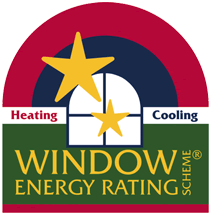 WERS stands for the Window Energy Rating Scheme that is managed by the Australian Window Association. WERS enables windows to be rated and labelled for their annual energy impact on a whole house, in any climate of Australia. WERS acts as a fair, rigorous and credible system for testing energy performance claims. It is about certified performance.
Energy rating for windows is here to stay as part of the federal government's commitment to improving energy efficiency and reducing greenhouse gas emissions.
The flexible glazing options available in The Carinya Collection means that our windows and doors compare favourably in WERS performance and the resale value and comfort of your home are improved by the use of the high performance Carinya windows and doors.
Carinya Classic Corner Sliding Door
Carinya Classic Sliding Door
© Copyright Aluminium Specialties Group Pty Ltd. All Rights Reserved.