Care and Maintenance
Your new Carinya window and door system has been manufactured using the highest quality materials available to the Architectural industry. Constructed from Architectural grade aluminium, these products are highly corrosion resistant and exceptionally strong. With a moderate amount of maintenance your Carinya system will retain its good looks and resist the elements for years to come.
All Carinya products have undergone extensive research and development and are designed to resist corrosion and rusting, but as with all external elements on the building require some maintenance to keep them looking good and performing well. Depending on how harsh the environment elements are, the maintenance period will vary. Refer to recommended maintenance table below.
Your Carinya system should only ever need to be washed down with a soft bristled brush using warm water and mild detergent. Rinse well with fresh water and remove detergent residue. Strong detergents and abrasive cleaners should never be used to clean Carinya windows and doors as they may scratch or damage the surface finish.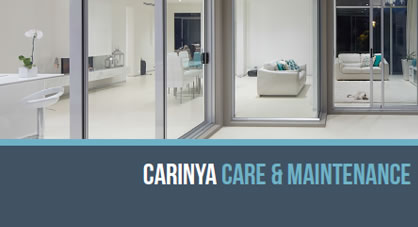 Download the Carinya Care & Maintenance Manual »
Suggested Frame Maintenance Table
Environmental Definitions:
Mild: Being rural, away from the coast and remote from industry and urban activity.
Moderate: Being mainly urban, inland and away from heavy industry.
Tropical: Being coastal/marine, subject to salt deposition and within 15km of the Eastern coast or 10km of the Western coast of Australia.
Sliding Windows and Doors
Sill areas should be kept clear of blockages from dirt and dust, simply cleaned using a vacuum or brush. These drainage slots need to be checked regularly to allow correct drainage and weathering performance. Door and window locks should be checked from time to time in case of requiring adjustment, allowing for building movement or settlement.
Awning / Casement, Double Hung Windows and French Doors
With the sashes open, the perimeter frame and sash should be cleaned regularly and kept free of dust, dirt and other foreign matter. Drainage holes should also be checked to ensure they are not blocked allowing for designed drainage.
© Copyright Aluminium Specialties Group Pty Ltd. All Rights Reserved.