Acoustics
Metropolitan living has created demand for higher performing acoustic window solutions in the building industry to achieve a more comfortable lifestyle.
Constant noise into a building can cause health related issues such as disruption of sleep and increasing stress levels. Aircraft, trains, highways, commercial retail and public areas are some of the conditions windows and doors are subjected to and specifiying the correct window & door system is a significant requirement in achieving comfortable living.
Carinya Windows & Doors have a significant influence to how the building withstands a range of sound frequencies in achieving compliance to the overall building.
Through ongoing Research and Development the dedicated profiles of the window and door system can cater for glass thickness up to 10.5mm without the need for commonly seen adaptors in other conventional window systems.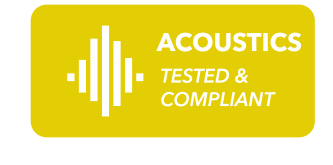 The Carinya system can achieve solutions in Single glazed up to Rw38 and Secondary glazed up to Rw49 making this an ideal window & door solution for all environmental conditions.
With the secondary glazed system achieving high acoustic requirements, energy performance in the Carinya system is also an additional benefit as essentially it creates a thermally broken double glazed system. Such energy values of up to U=2.2 can be achieved through the use of a Carinya Secondary Glazed system.
The Carinya Window & Door system have been independently tested to achieve higher acoustic solutions offering the comfortable living of a "Happy Home" which is the essential definition name of Carinya.
© Copyright Aluminium Specialties Group Pty Ltd. All Rights Reserved.